SEA SAND SUN RESORT AND VILLAS
A warm welcome to the Sea Sand Sun Resort and Villas (Pattaya) website. A tranquil yet luxurious haven of natural beautyfacing the Gulf of Thailand. Only thirty minutes away from the hedonism of Pattaya and one and a half hours away from Suvarnabhumi Airport, just East of the majestic Thai capital, Bangkok. On reaching the lobby a wave of serenity washes over you as you gaze out over the vantage point.The spectacular view of the resort with its towering trees,Balinese-Thai inspired gardens and dwellings, the alming sound of the sea and the sun bearing down on you combine to enhance your senses. A smile erupts across your face – you…have arrived.
Whether you are travelling as a group, with family or you are an independent spirit,there is nothing more rewarding than relaxing on a beautiful golden beach listening to the comforting blue water waves lapping up against the shoreline with a house speciality cocktail in hand,reading a good book or building sand castles with the kids – it's all about you and how we deliver your expectations. With a large selection of luxurious accommodation available ,our newly renovated restaurant,"Horizon" combined with our new menus, a beautiful infinity pool with an outside bar; and the option of having a romantic meal on the beach or with a group of friends watching the sunq2`set, you will come away with exquisite memories - there are no excuses for leaving your paradise hide-away.
So why wait? Take your time, look through our website and just imagine…See you shortly.

WHY SEA SAND SUN?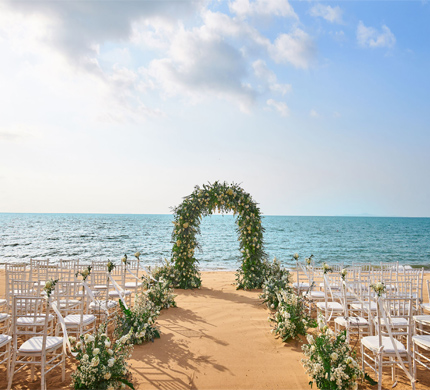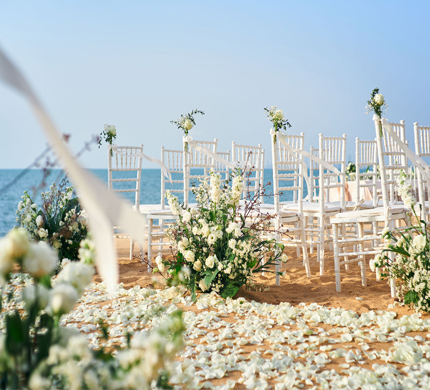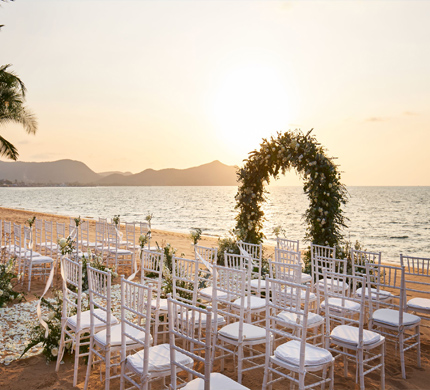 Specializing in creating dream wedding ceremonies & receptions. Sea Sand Sun Resort and Villas offers private and tranquil location beach wedding venue, with experienced making wedding dreams come true. We offer convenient wedding packages which include the bridal bouquet, bridesmaid and groomsmen wedding flowers, wedding decorations, wedding chairs, wedding cake and more. It's our goal to make your wedding day beautiful and unique, experienced team will work with you to design and create your perfect wedding day and memorable events for everyone.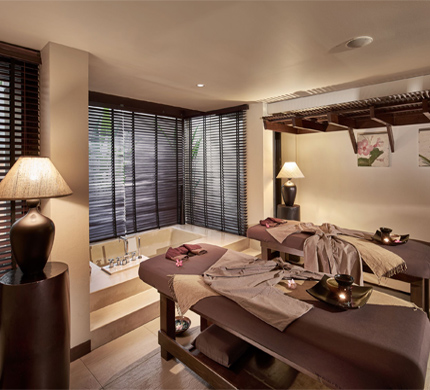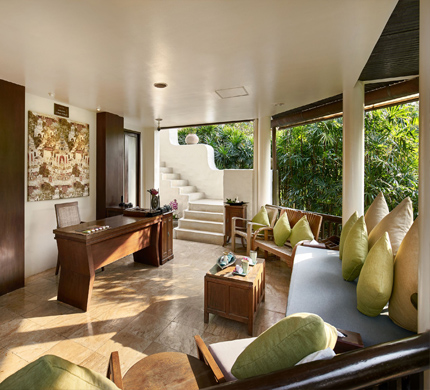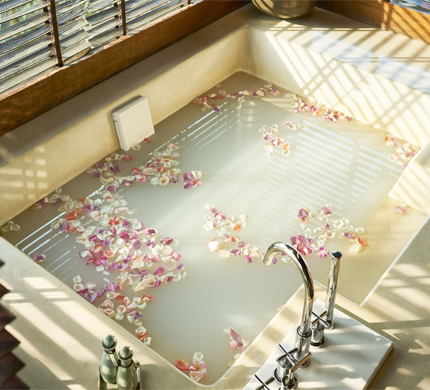 Do you have a special occasion coming up or are you feeling the pressure of everyday life? Do you want to buy your better half something different or is that old sports injury returning to haunt you? If you stayed out in the sun just a little too long! Do not despair, we have the antidote. Our range of invigorating, relaxing or soothing treatments will have back in tune with mind, body and soul in no time. Our professionally trained staff will ensure your experience is like no other. Using our specially formulated therapies, in conjunction with Bhawa Spa, Bangkok, your spirit will be lifted like never before.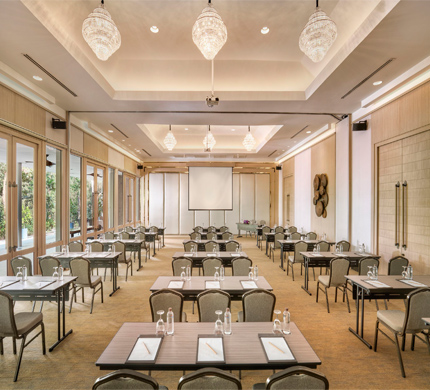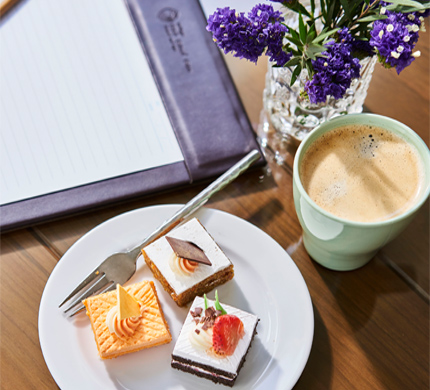 Sea Sand Sun Resort and Villas Meetings and Events venue, a magnificent setting offers 3 versatile function rooms and 3 outdoor venues with diverse layouts to fit your vision ideal for small to medium scale meetings and conferences, exclusive, top-level meeting, social occasion, fabulous themed parties or dreamy beach weddings. Our meeting and event planning staff offers the dedication and professionalism you require to ensure that your event will exceed your expectations.



private resort with clean sand beach, nearby cartoon network waterpark and nong nuch garden only 1-2 km. This hotel have all facility for relax such as pool nearby the beach, spa, garden,...I will come back this hotel next time.
There was the best fantastic resort ever in my life.
Every thing was fine, except the breakfast and dinner. Portion was too big and not tasty.
"Food - check. Accommodation - check. Scenery - check. Yes I think this could be the most perfect place to be in the world!"ankara eşya depolama
Been here 4 times would love to come again. Everything is perfect. Best relaxing SPA. Extremely friendly stuff. Hotel is located in forest which is very rear in Pattaya. Located in quite and clean Bang Sare beach.
It was amazing. Every little detail is in order. They thought of everything, from mosquito repelled to a beachbag, from umbrella to slippers, whatever you might need is provided for. We stayed at a pool villa, thanks to a complementary upgrade from the lovely management. Nicest place I have ever stayed, really pure luxury! Then breakfast again they thought of...
Located away from the chaos of Pattaya and within easy reach of the airport in Utapao this was an excellent choice for a few days of relaxation in beautiful surroundings with a lovely pool and beach area. Well worth the money and everything provided that you might need. Wonderful sunset thrown in as well! It is a little isolated, but...
We stayed in Dec 15, in a villa with private pool. The property was excellently maintained with dreamy surroundings. Excellent service and friendly staff. The massage center was equipped with first class masseurs and wonderful ambiance. Overall an ideal place for a relaxing holiday, was worth every penny we spent.
We did spend some days after a country excursion, to enjoy the sea sand ans sun! This was a great place to stay again, since revisited the resort after two years of absence. All was as expected very limited change, which was good to see the steady management and maintenance. We ask for the same garden villa with jacuzzi, and...
We came for a 4 night vacation on New Year's Eve. A family of 5, with kids (8, 4 and 5 month). It was a pleasure staying at the resort, as it is stated in its name "Sea Sand Sun" we enjoyed all three of them, which you have plenty at the resort. The service and welcomeness of all the...
This was a wonderful resort. It was very quiet and relaxing compared to the non-stop hustle and bustle of Bangkok and Pattaya. If you want to relax in an unpretentious atmosphere, enjoy excellent food with great variety, this is where you want to be. While a bit on the pricier side for what we (my mom and me) experienced elsewhere...
This hotel sells much smaller property as 200 metre villa. On complaining, they say - maybe its an error and wrong measurement at the time of construction. Probably the space is about 100 metres. The plunge pool is small and water cold. We had to ask someone to come and clean the leaves twice. In most standard hotels, this is...
Stayed for three nights and was upgraded to a 120sqm room. Rooms were well furnished and spotlessly clean. Loved the peaceful location and lush tropical gardens. Pool facilities were ok but shade was hard to find on the beach. Breakfast options were good with attentive service. Hotel car to Pattaya town was reasonable at 550 baht.
Our Third times here and still welcome with harmony and peaceful , always having wedding party here by the beach , hope to have one here in my future ;) All villa is great and reasonable price , good breakfast especially tasty fresh egg , recommend for couple and family .
I spent couple nights with friends at Sea Sand Sun Resort & Spa. There is a nice small jaguzzi bathtub in villa. Staff service is exceptionally good. Good thing here is quiet surrounding, even it is quite far from the city.
I have been here so many times and it's still the best hotel in Pattaya. First the hotel has company outing and i was unable to enjoy pool view and beach. So all the staffs tried to comfort and gave us the best service. Ill definitely come back here! Thank u hotel for made the trip enjoyable
Very nice staff, a little more english is better, but the way they do it is charming. Great ambiance, pool, sea, garden, its the second time we stay here. Good food, but expensive if you compare it, but good for the location. If you walk ( 15 min) over the beach, there a lot of little restaurant with good food.
"Food - check. Accommodation - check. Scenery - check. Yes I think this could be the most perfect place to be in the world!"